About Us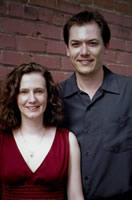 photo by Val Hollingsworth
Art Studios Online is a website design service created by artists for artists. Art Studios Online is brought to you by Lucht Studios, LLC, a small independant website design company that is the collaboration of a professional award winning artist and an experienced web programmer. We specialize in websites for artists, galleries, art events and art organizations, as well as artistically designed websites for small business.
We understand what the life of an artist is like — how running an art business is not just about making art. We know that the neccessary tasks of marketing, bookkeeping, hanging shows, participating in art fairs, photographing work, filling out show applications, dealing with galleries, etc. all eat into time that you could be spending in the studio. While a website is a neccessary component in your marketing plan, it should not take up all your time.
We believe that an artist's website should:
Be easy to setup — with instructions in plain english not computer language
Be easy to update — at no extra charge
Be affordable — we offer a variety of plans so you can start off small and grow as your business needs require it
Be flexible — we offer a variety of template options as well as the ability to add custom features
Be online quickly — usually the same day
Be both search engine friendly and easy for visitors to use
Be reliable — our hosting service uses best-of-breed routers, servers and firewalls and full network and power redundancy
Spotlight your art not distract from it
Be interconnected to drive more traffic
A website design company for artists should:
Be professional, helpful, and responsive to your needs
Understand the needs of the art world
Understand that you may not feel all that comfortable with computers or the internet and should talk to you in a way that is clear and helpful, but never condescend
Be skilled in the latest software and provide a look that is current
We understand that running an art business requires a multitude of skills. Adding web expertise is just not something most artists need to tackle. This is why we have focused on providing a quick and simple solution to get artists on the web.